Tesla Discontinues Bitcoin Payment Option, Forces A Bearish Market Sentiment
The cryptocurrency market witnessed what could be described as a black swan dipping by about 12% after Tesla announced that it had suspended vehicle purchases using bitcoin.
Tesla's CEO Elon Musk announced a statement he shared on his Twitter page (see tweet below).
Although not totally out of place, the announcement was unprecedented, considering that the American electric vehicle and clean energy company recently announced that it made a profit from trading part of its crypto investment.
Recall that the electric automaker back in February announced about $1.5 billion worth of Bitcoin and subsequently adopted the crypto as a payment option.
Fast-forward to now, the company has changed its stance about cryptocurrency acceptance while attributing the reason to many factors, including the impact of renewable energy and eco-friendliness.
Tesla & Bitcoin pic.twitter.com/YSswJmVZhP

— Elon Musk (@elonmusk) May 12, 2021
"We are concerned about rapidly increasing use of fossil fuel for Bitcoin mining and transactions, especially coal, which has the worst emissions of any fuel," a statement published via Twitter by Tesla's CEO, Elon Musk read.
The statement added that while cryptocurrency is a good idea on many levels, with a very promising future, "it shouldn't come at a great cost to the environment."
ALSO READ: ANALYSIS: What Tesla's Acceptance Of Bitcoin Payment Means
While the above claim justifies Tesla's decision to discontinue the acceptance of Bitcoin, it does not necessarily justify why the company has decided to 'hold what's left of its crypto-investment, which is still worth about $1.3 billion.
Per the statement released via Twitter, "Tesla will not be selling any Bitcoin."
Instead, the automaker claims that it intends to use its remaining crypto investment for transactions as soon as mining transitions to more sustainable energy.
How long this will take remains unclear, but judging from the current market situation, it may take as long as one decade at least.
Tesla is looking to invest in alternative cryptocurrency with lesser energy consumption
Tesla does not necessarily seem bothered about how long the transition to more sustainable energy for mining will take.
It claims to be looking for other cryptocurrencies that consume way lesser energy. "We are also looking at other cryptocurrencies that <1% of Bitcoin's energy/transaction," Tesla statement read further.
While Tesla still shows obvious interest in crypto, its approach to the subject matter has had a favorable and unfavorable impact on the entire crypto market for some weird reasons.
ALSO READ: Tesla Buys $1.5 Billion Worth Of Bitcoin, Plans To Accept Cryptocurrency As Payment Alternative
For instance, his latest announcement not only impacted Bitcoin alone but other cryptos – the top 15 according to Coindesk – also suffered the bullish market sentiment.
Notable cryptos in the top 10 weighted by market cap that witnessed a dip alongside bitcoin include Ethereum (ETH, -7.91%), Dogecoin (DOGE, -12.37%), and Polkadot (DOT, -10.19%). Other altcoins that were also affected suffered a dip between 8% and 12%, respectively.
Tesla's environmental concern may be far away from the actual plot
Tesla's decision to discontinue Bitcoin payment has been tailed by many expert opinions as the majority do not buy the idea that the automaker's choice was based on environmental concerns, as the company claimed.
Firstly, after its bitcoin acquisition, Tesla was heavily cautioned by many experts about its choice to venture into a crypto investment, and one of the major points of critique raised was how the move defiles the company goal of achieving green energy.
Adamant to the heavy criticism, Tesla proceeded to announce its acceptance of Bitcoin as a payment option; of course, not without being aware of the implication, especially as opined by many experts.
Also, Tesla itself is an advocate for renewable energy, and it is evident in its business model, which significantly relies on electricity and other forms of power supply such as solar.
The question should be what actually changed?
Open to diverse opinions; however, it's quite hard to tell what exactly could have gone wrong in Tesla's move to accept bitcoin payments and subsequently discontinue barely three months after.
Amidst the bitcoin adoption frenzy in February, Twitter CEO Jack Dorsey tweeted that "bitcoin incentivizes renewable energy," a statement which Elon Musk agreed to.
ALSO READ: Tesla's Bitcoin Acquisition Pays Off As Company Reports $101 Million BTC Profits In Q1
The comments from both Jack and Elon also come under an initial tweet by Square Crypto. This cryptocurrency exchange platform claimed that "bitcoin is a key driver of renewable energy's future."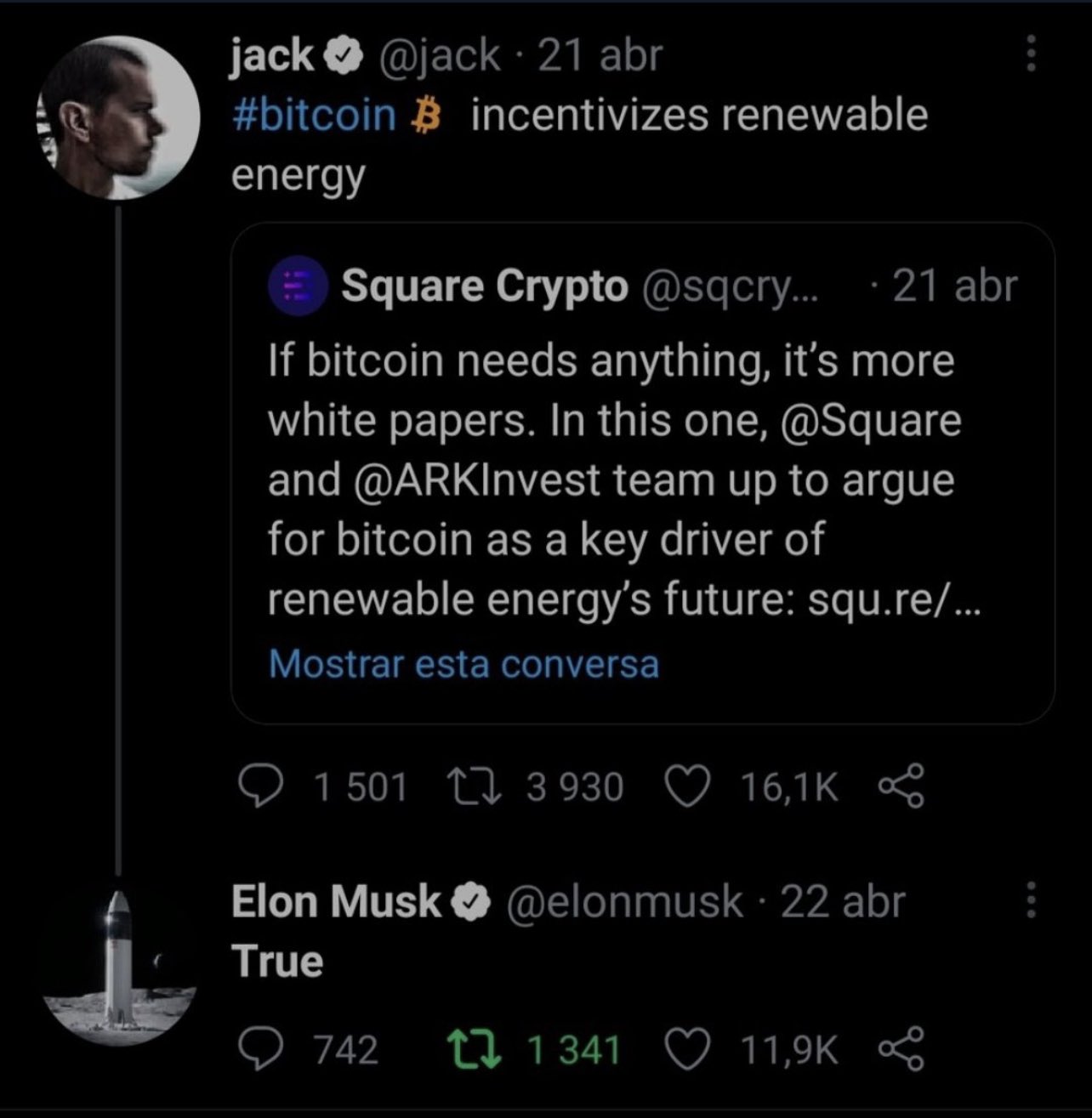 Similarly, Morgan Creek Capital, founder and staunch Bitcoin proponent, Anthony Pompliano Elon, claims that "75% of miners use renewable energy."
While these claims may be arguably correct and coupled with Tesla's initial acceptance of bitcoin; it is safe to say that the company had an ulterior motive behind its latest decision.
"The automaker definitely wouldn't want Bitcoin price to plummet due to its investment in the crypto asset class. Thus, its explanation for suspending Bitcoin payments seems like a strategy to reduce the effects of the announcement on the price. But that hasn't been the case," a reliable source claimed.